Image Format Options Dialog Box
In this dialog box, you can specify the options for exporting images for the selected batch type. These options can be specified when creating a batch type with the Batch Type Wizard and adjusted after the batch type has been created. To adjust the image export options, in the Batch Type Properties dialog box, click the Send To tab, select Use these sending options and click the Format Options... button under Export Options.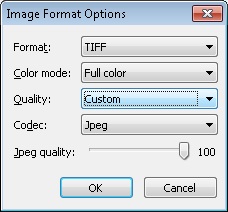 Specify the desired output format and how multi-page documents should be saved.
Option
Description
Format(drop-down list)

Select the desired file format:

BMP
TIFF
JPEG
JPEG2000
DCX packbits
PCX packbits
PNG
PDF
PDF/A

Standard (drop-down list)

If PDF/A is specified in the Format field, select one of the following versions of the PDF/A format for output files:

PDF/A-1a
PDF/A-1b
PDF/A-2a
PDF/A-2b
PDF/A-2u
PDF/A-3a
PDF/A-3b
PDF/A-3u

Note. You can use the IImageSavingOptions object to export to PDF/A.

Color mode (drop-down list)

Select the desired color mode:

Full color
Grayscale
Black and white

Quality(drop-down list)

Select the quality of saved images:

Best
High
Normal
Low
Custom

Codec (drop-down list)

For the Custom quality, select the codec type:

Zip
Lzw
Packbits
Jpeg
None

JPEG quality (scroll bar)
For Jpeg codec type, adjust the Jpeg quality by moving the scroll box.
Multi-page format options

Select a method for saving documents in batches:

Save documents as multi-page files
Lets you save documents as multi-page files. This option is available only for TIFF, DCX packbits, PDF and PDF/A formats.
Save documents as folders
Lets you save documents as folders. If you choose this option, the document pages will be represented by separate files of the selected format.
11/29/2022 5:26:42 PM
Please leave your feedback about this article