Send by Script Options Dialog Box
In this dialog box, you can specify the options for exporting batches by using a script. Select File → Sending Options... and click the Script. You can also open this dialog box when selecting a Send by Script... export profile by clicking the arrow next to the Send To button on the main window toolbar.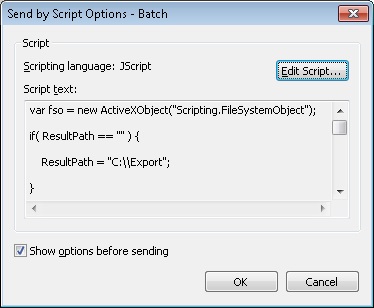 Press Edit Script... button to open the Script Editor window and select the desired scripting language: JScript® , VBScript , C#.Net , VisualBasic.Net or JScript.Net.
Disable the Show options before sending option if you want to use the same options next time you export data by using a script. In this case this dialog box will not appear when the next export process starts.
11/29/2022 5:26:42 PM
Please leave your feedback about this article