ABBYY FlexiCapture architecture
ABBYY FlexiCapture is a set of applications that comprises document processing stations and servers.
Server components:
Application Server is a web service in Internet Information Services (IIS) which functions as the main gateway for all HTTP/HTTPS traffic in the system . This component provides user authentication and authorization functionality and enables communication between the server and client components.
License Server is a service that stores information about the current license and allowed uses of the system.
Processing Server is service that manages the Processing Stations. This component enables distributed processing.
Database stores the processing settings, information about the users, information about the documents that are being processed, and statistics for the documents that have been processed.
File Storage stores the images of the documents that are being processed and the data captured from these documents.
Each server component can be installed on a separate computer, allowing variable scalability and individual reliability and security settings.
Client components:
Administration and Monitoring Console is a web application that is used for setting up ABBYY FlexiCapture and monitoring its operation.
Project Setup Station is used for setting up document processing.
Processing Stations:
Automated Processing Stations import and process images, perform optical recognition, run user scripts, export extracted data to the user's storage system, and perform a number of service operations.
Manual Processing Stations (Scanning Station and Verification Station) is a set of applications for obtaining document images,  feeding them to ABBYY FlexiCapture, and verifying extracted data. They can be installed as separate PC applications, as thin browser-based clients, or as mobile apps.
Component interaction
The flow chart below illustrates interaction among the ABBYY FlexiCapture components.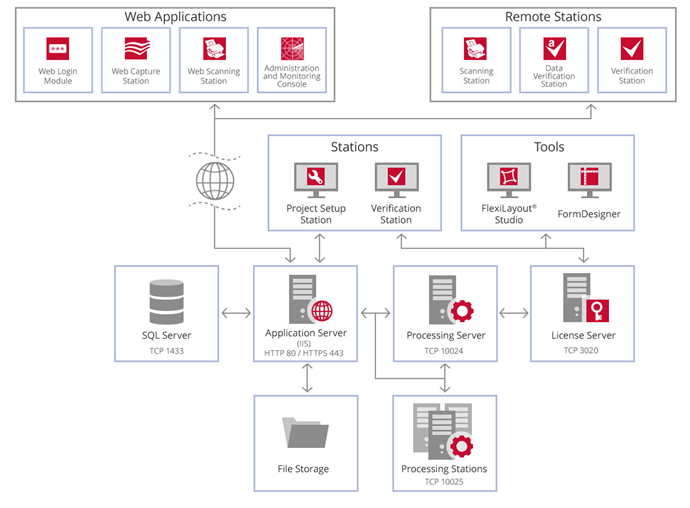 For details, see: Overview of interactions between ABBYY FlexiCapture components.
16.01.2023 10:02:51
Please leave your feedback about this article