Creating an administrative installation point
Launch the AutoRun.exe file from the installation package folder and choose Mass Installation > Install and activate using the License Manager > Step 2. Create an administrative installation.
Alternatively, use the command line to run the following command in the installation package folder: Setup.exe /a.
Note: see Additional command-line options for silent installation with additional options for command line installation.
Follow the instructions of the setup program.
When the setup program prompts you, specify the following:
The name of the computer where the License Server is to be installed
Note: A server's IP address can be used instead of its name.
The path to the administrative installation folder
Important! Avoid moving the administrative installation folder after ABBYY FineReader is installed on the workstations.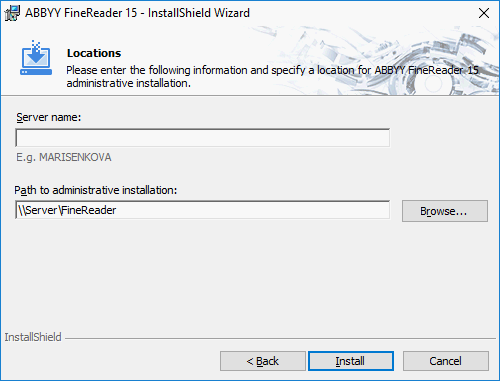 3/4/2022 7:13:06 AM
Please leave your feedback about this article