Creating an administrative installation point
Launch the AutoRun.exe file from the installation package folder and choose Mass Installation > Install and activate using the License Manager > Step 2. Create an administrative installation.
Alternatively, use the command line to run the following command in the installation package folder: msiexec.exe /a.
Note: see Additional command-line options for silent installation with additional options for command line installation.
Follow the instructions of the setup program.
When the setup program prompts you, specify the following:
The name of the computer where the License Server is to be installed
Note: A server's IP address can be used instead of its name.
The path to the administrative installation folder
Important! Avoid moving the administrative installation folder after ABBYY FineReader is installed on the workstations.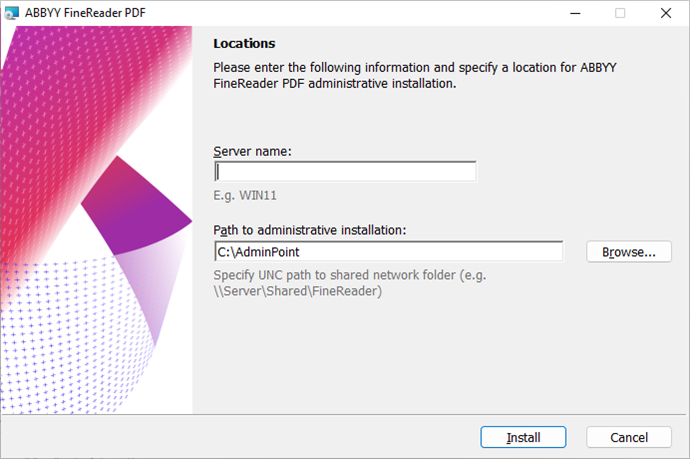 Note: To be able to edit documents when using a limited version of ABBYY FineReader PDF 16 requiring a Concurrent license, copy the limited version license file to the OpenLicenses folder after creating the administrative installation folder.
For example, if the administrative installation folder has been created in folder C:\Temp\FineReaderPDF, the limited version license file should be copied to the OpenLicenses folder located here: C:\Temp\FineReaderPDF\Bin\OpenLicenses.
Note: We do not recommend creating an administrative installation folder on the computer where ABBYY FineReader PDF 16 is installed locally. All further product updates on that machine will require a Windows privilege escalation (red UAC window). To avoid this, create the administrative installation folder on a different computer.
5/17/2023 7:34:38 AM
Please leave your feedback about this article