English (English) - Change language
Failover configuration of the distributed product version
ABBYY FlexiCapture supports clusters. There are two important benefits of using clusters:
Fault tolerance: in case of failure of one of the servers, the request will be executed by another server.
Distributed workloads: query processing is distributed among cluster nodes. This improves performance.
The architecture of ABBYY FlexiCapture is provided in the figure below: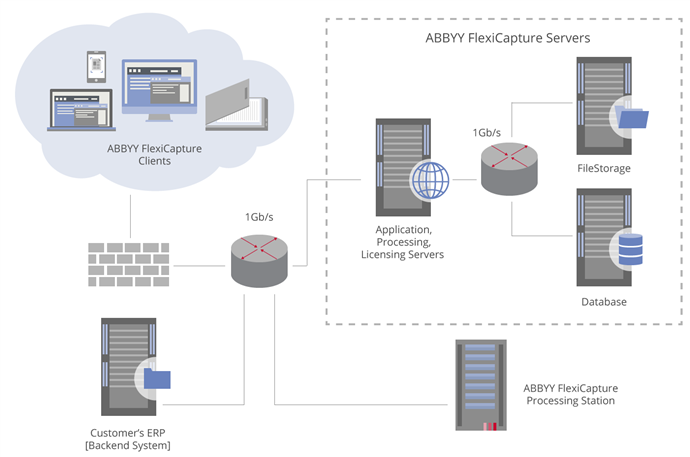 Note: For more information about system components and the way they interact with each other, see ABBYY FlexiCapture architecture.
The Processing Server, Licensing Server, and Application Server may be installed on clusters.
The Application Server installed on the NLB cluster allows you to balance the load. The Processing Server and the Licensing Server installed on the Failover Cluster allow you to ensure fault tolerance. Besides, a user needs to install more than one Processing Stations, while the Database Server and the File Storage need to operate in the failover mode. For example, a user can set up a Failover Cluster for the MS SQL Server (for more information, consult with the official Microsoft website).
Below is the diagram of the ABBYY FlexiCapture failover configuration: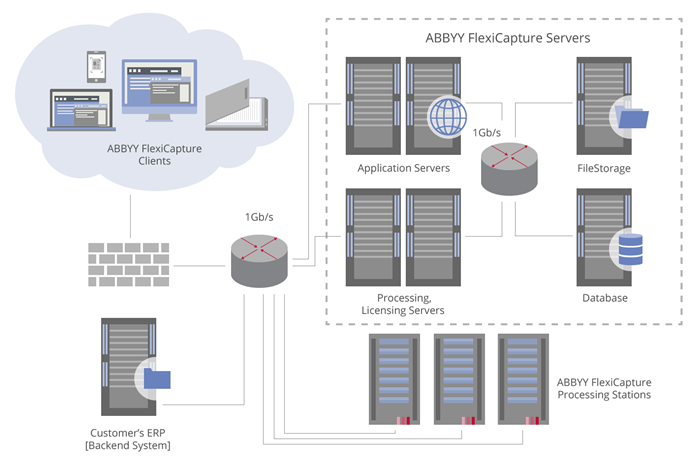 To configure the failover configuration of ABBYY FlexiCapture Distributed, perform the following steps:
Configure the clustering of the Processing Server by means of the Failover Cluster. The process is comprised of the following steps:

Set up clustering of the Licensing Server by means of the Failover Cluster.
Set up clustering of the Application Server by means of the NLB cluster. This process includes setting up the cluster and setting up the Application Server.
In this case, one computer cannot serve as a node both for the NLB and the Failover Cluster at the same time. This means that clustering the server part of the program will require at least 4 computers: two for the NLB cluster and two for the Failover Cluster. Use the separately configured network failover file storage, such as Network Attached Storage (NAS).
9/24/2018 1:55:24 PM