Chinese Simplified (简体中文)
TrainingResult Object (ITrainingResult Interface)
This object contains the result of training the classifier on the input data set. It includes the classification model and the results of checking the model's performance.
Properties
Related objects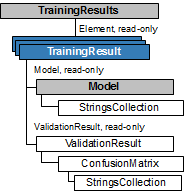 Output parameter
This object is the output parameter of the Item method of the TrainingResults object.
Samples
This object is used in the Classification demo tool.
See also
See also
24.03.2023 8:51:52