Chinese Simplified (简体中文)
RasterPictureBlock Object (IRasterPictureBlock Interface)
This object provides access to specific properties of a raster picture block. The part of the image that this block encloses is not recognized, and the block is exported "as is." The IRasterPictureBlock interface is derived from the IBlock interface and inherits all its properties.
Properties
Name
Type
Description
ColorType
ImageColorTypeEnum

Specifies the color type for the whole image as the maximum of the corresponding values for its color planes (black-and-white, gray, color).

The default value of this property is ICT_Color.
Methods
| Name | Description |
| --- | --- |
| CopyFrom | Initializes the properties of the current object with the values of similar properties of another object. |
| SetBlockLayerType | Sets the layer of the block: background, foreground, or hidden. |
Related objects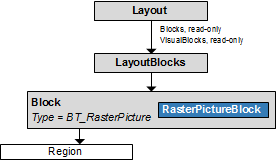 Output parameter
This object is the output parameter of the GetAsRasterPictureBlock method of the Block object.
See also
Working with Layout and Blocks
24.03.2023 8:51:52