Chinese Simplified (简体中文)
Model Object (IModel Interface)
This object represents a trained model which can be used for classifying documents.
Properties
Methods
| Name | Description |
| --- | --- |
| Classify | Uses the model to classify a given classification object. |
| SaveToFile | Saves the model into a file on disk. |
Related objects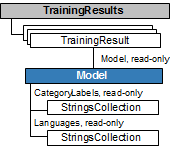 Output parameter
This object is the output parameter of the CreateModelFromFile method of the ClassificationEngine object.
Samples
This object is used in the Classification demo tool.
See also
24.03.2023 8:51:52