Chinese Simplified (简体中文)
DictionaryDescription Object (IDictionaryDescription Interface)
This object is a dictionary description which may be typecast to one of its child objects: StandardDictionaryDescription, UserDictionaryDescription, RegExpDictionaryDescription, or ExternalDictionaryDescription. These objects provide access to descriptions of four different dictionary types and inherit all the properties of the DictionaryDescription object. They are also elements of the DictionaryDescriptions collection.
Properties
Name
Type
Description
Application
Engine, read-only
Returns the Engine object.
Type
DictionaryTypeEnum, read-only
Returns the type of the dictionary.
Weight
int

Stores the dictionary weight in percentage points. This value must be non-negative.

By default, this property is set to 100%.
Methods
Related objects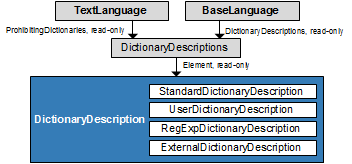 Output parameter
This object is the output parameter of the Item method of the DictionaryDescriptions object.
Samples
C# code
The object is used in the following code samples: CustomLanguage.
See also
24.03.2023 8:51:52