Chinese Simplified (简体中文)
Change Object (IChange Interface)
This object represents one difference between the original and the copy. It provides information about the change location, the type of content the change affects, and the kind of modification made (something inserted, deleted, etc.). White spaces and empty strings are not considered as changes.
Properties
Methods
Related objects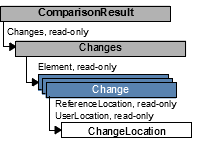 Output parameter
This object is the output parameter of the Item method of the Changes object.
Samples
The object is used in the Document Comparison demo tool.
See also
Migration Guide from ScanDifFinder SDK to Document Comparison API
24.03.2023 8:51:52