Chinese Simplified (简体中文)
AutoAnalysisBlock Object (IAutoAnalysisBlock Interface)
The object represents an autoanalysis block.
These blocks are used only in Visual Components. They cannot be created and recognized via FineReader Engine API. They are available only via the ILayout::VisualBlocks property.
The IAutoAnalysisBlock interface is derived from the IBlock interface and inherits all its properties. However, only Region and Type properties make sense for autoanalysis blocks. This object does not provide any specific properties or methods for working with an autonalysis block.
Related objects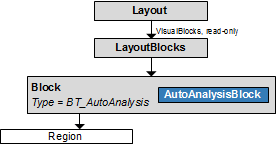 See also
24.03.2023 8:51:52