Metnin işaretlenmesi
PDF Düzenleyici, bir belgede hangi değişikliklerin yapılması gerektiğini belirtmenize izin verir. Eklediğiniz düzenleme işaretleri metnin kendisini değiştirmez, fakat sadece hangi değişikliklerin nerede yapılması gerektiğini belirtir.

Metin düzenlemeyle ilgili açıklamalar sadece bir metin katmanın sahip olan ya da arka plan tanıma işlemi tarafından tanınmış belgelerde kullanılabilir.
ABBYY FineReader şu işaretleme araçlarını sunar:
| | |
| --- | --- |
| | Vurgulama |
| | Altını çizme |
| | Üstünü çizme |
| | Metin Eklemek için Not Ekleme |

Üzerine çift tıklatarak herhangi bir açıklamaya yorum ekleyebilirsiniz. Yorumlar hakkında daha fazla bilgi için bkz. PDF belgeleri üzerinde işbirliği yapma.
Bir metin parçasını vurgulamak, altını çizmek veya üstünü çizmek için:
Araç çubuğunda bir işaretleme aracı seçin ve ardından istediğiniz metin parçasını seçin, veya
İstediğiniz metin parçasını seçin ve ardından araç çubuğundan bir işaretleme seçin.
Bir yerleştirme noktası belirlemek için:
PDF Araçları araç çubuğunun üzerindeki aracına tıklayın ve metnin yerleştirilmesi gereken yere tıklayın.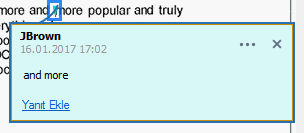 Bir ek açıklamanın rengini değiştirmek için:
Açıklamaya sağ tıklayın ve kısayol menüsünden istediğiniz rengi seçin ya da
Ana araç çubuğunda bir biçimlendirme aracını tıklatın, ardından da belgenin üzerinde görünen araç çubuğundaki renk kutucuklarından birini tıklatın.
Bulmak için tüm belgeyi okumanıza gerek kalmadan belirli metin parçalarını işaretlemek için arama özelliğini kullanabilirsiniz.
ABBYY FineReader PDF 15'ün ARA bölmesinden bir yer imi seçin.
Bulmak istediğiniz kelimeyi veya ifadeyi yazın.
In the ARA pane, select the search hits you want to mark up and desired markup tool. Farklı bir renk seçmek isterseniz, aracın kendisine tıklamak yerine işaretleme aracının yanındaki oka tıklayın ve ardından çıkan renk paletinden istediğiniz rengin üzerine tıklayın.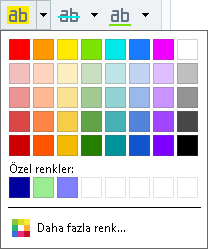 ARA bölmesindeki işaretleme araçları varsayılan olarak PDF Araçları araç çubuğundaki işaretleme araçlarıyla aynı renkleri kullanır.
04.03.2022 7:13:29
Please leave your feedback about this article