Rozpoznawanie w tle
W Edytorze PDF można wyszukiwać oraz kopiować tekst i obrazy znajdujące się w dokumentach PDF nie zawierających warstwy tekstowej, takich jak dokumenty skanowane i utworzone z plików graficznych. Jest to możliwe dzięki procesowi OCR, który działa w tle.
Funkcja rozpoznawania w tle jest włączona domyślnie i zaczyna działać automatycznie po otwarciu dokumentu PDF.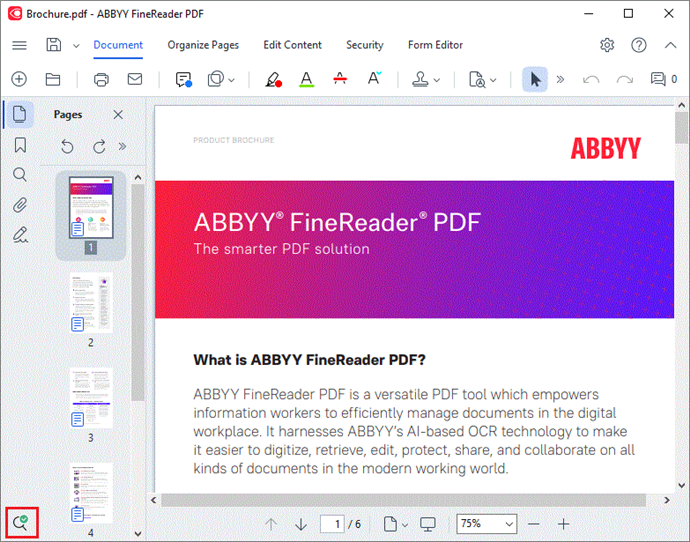 Proces rozpoznawania w tle nie zmienia treści pliku PDF. Dodaje tylko tymczasową warstwę tekstową, która nie będzie dostępna po otwarciu dokumentu w innych aplikacjach.

Jeśli chcesz umożliwić przeszukiwanie dokumentu także w innych aplikacjach, zapisz warstwę tekstową utworzoną przez proces rozpoznawania w tle. Aby to zrobić, kliknij przycisk

na pasku narzędzi w zakładce Dokument i wybierz Rozpoznaj dokument... z listy rozwijanej. Zobacz również: Rozpoznawanie tekstu.

Ważne! Jeśli funkcje wyszukiwania lub kopiowania nie działają prawidłowo, sprawdź czy dla dokumentu zostały wybrane odpowiednie języki OCR. Zobacz również: Właściwości dokumentu, które należy uwzględnić przed rozpoczęciem rozpoznawania OCR.

Aby wyłączyć rozpoznawanie w tle, usuń zaznaczenie opcji Włącz rozpoznawanie w tle w edytorze PDF w oknie dialogowym Opcje.

Proces rozpoznawania w tle nie może działać na komputerach z procesorem jednordzeniowym.
17.05.2023 7:35:03
Please leave your feedback about this article