Fotografowanie dokumentów
Skanowanie nie jest jedynym sposobem na utworzenie obrazów dokumentów. Można także rozpoznawać zdjęcia dokumentów wykonane za pomocą aparatu cyfrowego lub telefonu komórkowego. Wystarczy zrobić zdjęcie tekstu, zapisać je na dysku twardym, a następnie otworzyć w programie ABBYY FineReader.
Podczas wykonywania zdjęć dokumentów należy wziąć pod uwagę kilka czynników mających wpływ na przydatność zdjęcia do rozpoznawania. Szczegółowy opis tych czynników znajduje się poniżej:
Wymagania dotyczące aparatu
Aby obrazy dokumentów można było niezawodnie rozpoznawać, aparat musi spełniać poniższe wymagania.
Zalecane parametry aparatu
Czujnik obrazu: 5 milionów pikseli dla stron A4. Mniejsze czujniki mogą być odpowiednie do robienia zdjęć mniejszych dokumentów, np. wizytówek.
Funkcja wyłączenia lampy błyskowej
Ręczne sterowanie przesłoną, np. dostępność trybu Av lub w pełni ręcznego
Ręczne ustawianie ostrości
System przeciwwstrząsowy lub możliwość użycia statywu
Zoom optyczny
Minimalna wymagana konfiguracja
2 milionów pikseli dla stron A4.
Zmienna ogniskowa.
Uwaga: szczegółowe informacje na temat aparatu można znaleźć w załączonej do niego dokumentacji.
Oświetlenie
Oświetlenie ma duży wpływ na jakość zdjęcia.
Najlepsze wyniki uzyskuje się przy jasnym i równomiernym oświetleniu, najlepiej w świetle dziennym. W jasne słoneczne dni można zwiększyć wartość przysłony, aby uzyskać lepszą ostrość obrazu.
Korzystanie z lampy błyskowej i innych dodatkowych źródeł światła
Podczas robienia zdjęć przy sztucznym oświetleniu należy użyć dwóch źródeł światła rozmieszczonych w taki sposób, by uniknąć cieni i odbić.
Jeżeli dostępne światło jest wystarczające, należy wyłączyć lampę błyskową, by uniknąć ostrych odbłysków i cieni. Przy użyciu lampy błyskowej w warunkach słabego oświetlenia upewnij się, że zachowujesz wystarczającą odległość około 50 cm.
Ważne! Nie można używać lampy błyskowej do robienia zdjęć dokumentów na błyszczącym papierze. Porównanie obrazu zawierającego odbicie z obrazem dobrej jakości
Jeśli obraz jest zbyt ciemny
Ustaw niższą wartość przesłony, aby zwiększyć przesłonę.
Ustaw wyższą wartość ISO.
Użyj ręcznej ostrości, ponieważ automatyczna ostrość może przynieść niepożądane rezultaty w słabym oświetleniu.
Porównanie zbyt ciemnego obrazu z obrazem dobrej jakości:
Robienie zdjęć
Aby uzyskać dobrej jakości zdjęcia dokumentów, ustaw prawidłowo aparat i postępuj zgodnie z poniższymi wskazówkami.
Używaj statywu zawsze, gdy jest to możliwe.
Obiektyw powinien być ustawiony równolegle do strony. Odległość między aparatem a dokumentem powinna być wystarczająca, aby cała strona mieściła się w ramce po przybliżeniu. W większości przypadków są to wartości rzędu 50–60 cm.
Wyrównaj powierzchnię dokumentu lub stron książki (zwłaszcza, jeśli książka jest gruba). Aby mieć pewność, że tekst zostanie przekonwertowany poprawnie, wiersze tekstu nie mogą być zakrzywione pod kątem większym niż 20 stopni.
Aby uzyskać ostrzejsze obrazy, skieruj ostrość na środek obrazu.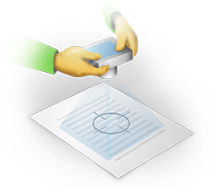 Włącz system przeciwwstrząsowy, ponieważ dłuższy czas ekspozycji w słabym oświetleniu może spowodować zamazanie.
Używaj funkcji automatycznego zwalniania migawki. Dzięki temu unikniesz poruszenia aparatem przy naciskaniu jej przycisku. Korzystanie z automatycznego zwalniania migawki jest zalecane nawet wówczas, gdy używany jest statyw.
Jak poprawić obraz, gdy:
obraz jest zbyt ciemny lub kontrast jest za niski.
Rozwiązanie: Spróbuj polepszyć oświetlenie. Jeśli nie ma takiej możliwości, spróbuj ustawić niższą wartość przesłony.
obraz nie jest wystarczająco ostry.
Rozwiązanie: Automatyczne ustawianie ostrości może nie działać poprawnie w słabym oświetleniu lub podczas fotografowania z bliskiej odległości. Spróbuj użyć jaśniejszego światła. Użyj statywu i samowyzwalacza, aby uniknąć poruszenia aparatem podczas wykonywania zdjęcia.
Jeżeli obraz jest tylko nieznacznie zamazany, użyj narzędzia Korekta zdjęć dostępnego w Edytorze obrazów. Więcej informacji na ten temat znajduje się w części "Ręczna edycja obrazów".
obraz nie jest wystarczająco ostry.
Rozwiązanie: Ustaw wyższą wartość przesłony. Rób zdjęcia z większej odległości przy maksymalnym zoomie optycznym. Ustaw ostrość na punkt pomiędzy środkiem i brzegiem obrazu.
lampa błyskowa powoduje odbicia.
Rozwiązanie: Wyłącz lampę błyskową albo spróbuj użyć innego źródła oświetlenia, zwiększając jednocześnie odległość między aparatem a dokumentem.
1/14/2020 5:26:20 PM
Please leave your feedback about this article