Als u een boek scant, kunnen tegenoverliggende pagina's op dezelfde afbeelding verschijnen.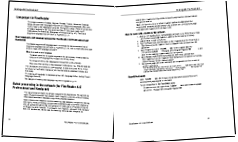 Om de herkenningskwaliteit te verbeteren, wilt u dergelijke afbeeldingen mogelijk in tweeën splitsen, zodat elke afbeelding slechts één pagina bevat.
Selecteer de afbeelding die u in tweeën wilt splitsen.
Open AFBEELDING BEWERKEN en klik op SPLITSEN.
Afhankelijk van de stand van de tegenoverliggende pagina's, selecteert u de verticale of horizontale scheiding en plaatst u die tussen de pagina's.
Tip: om alle scheidingen te verwijderen, klikt u op .
Klik op de knop Splitsen.
Om te stoppen met het bewerken van de afbeelding, klikt u op Afbeeldingsgereedschappen sluiten.
Elk van de geselecteerde afbeeldingen wordt gesplitst in twee afzonderlijke afbeeldingen, met steeds maar één pagina.
Tip: als er een heleboel afbeeldingen zijn met tegenoverliggende pagina's in uw document, wilt u ze mogelijk automatisch splitsen. Houd de Ctrl- of de Shift-toets ingedrukt, selecteer de afbeeldingen die u wilt splitsen en klik vervolgens op de knop Alles automatisch splitsen. Als u alle afbeeldingen wilt splitsen, selecteert u de eerste en klikt u vervolgens op de knop Alles automatisch splitsen. ABBYY FineReader 12 Sprint voegt automatisch verticale of horizontale scheidingen toe en splitst de geselecteerde afbeeldingen met tegenoverliggende pagina's.
Belangrijk! Als u het document al had opgeslagen voordat u de tegenoverliggende pagina's splitste, moet u het document opnieuw opslaan om de wijzigingen die u met het splitsgereedschap hebt gemaakt door te voeren. Om het document op te slaan, sluit u de afbeeldingsgereedschappen en klikt u op een van de knoppen in het paneel INSTELLINGEN EXPORTEREN.
02.11.2018 17:37:16
Please leave your feedback about this article