Tekst markeren
Met de PDF-editor kunt u aangeven welke wijzigingen moeten worden aangebracht in een document. Als u bewerkingsmarkeringen toevoegt, wordt de tekst zelf niet gewijzigd. Het geeft slechts aan welke wijzigingen waar moeten worden doorgevoerd.

Aantekeningen die zijn gerelateerd aan het bewerken van tekst zijn alleen beschikbaar in documenten met een tekstlaag of documenten die zijn herkend met het herkenningsproces op de achtergrond.
ABBYY FineReader bevat de volgende markeringsgereedschappen:
| | |
| --- | --- |
| | Markeren |
| | Onderstrepen |
| | Doorhalen |
| | Opmerking toevoegen aan ingevoegde tekst |

Door te dubbelklikken op de aantekening kunt u elk soort opmerking toevoegen. Zie voor meer informatie over opmerkingen Samenwerken aan PDF-documenten.
Zo kunt u een tekstfragment markeren, onderstrepen of doorstrepen:
Selecteer het juiste markeringsgereedschap op de hoofdwerkbalk en selecteer dan het gewenste tekstfragment of
Selecteer het juiste tekstfragment en selecteer dan het gewenste markeringsgereedschap op de hoofdwerkbalk.
Zo geeft u aan waar moet worden ingevoegd:
Klik op de gereedschap in de PDF-gereedschappen- werkbalk en klik op de plek waar u tekst wilt invoegen.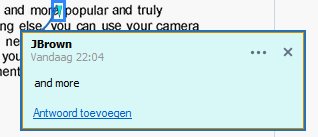 Zo verandert u de kleur van een aantekening:
Klik met de rechtermuisknop op een aantekening en selecteer de gewenste kleur in het snelmenu of
Klik op het gereedschap Opmaak in de hoofdwerkbalk en klik vervolgens op een van de gekleurde vakken op de werkbalk die boven het document verschijnt.
U kunt de zoekfunctie gebruiken om specifieke tekstfragmenten te markeren. Zo hoeft u niet het hele document te lezen om ze te vinden.
Open het ZOEKEN deelvenster.
Typ het woord of de zin die u wilt vinden.
In het ZOEKEN deelvenster selecteert u de zoekresultaten die u wilt markeren en klik op het gewenste markeringsgereedschap. Als u een andere kleur wenst, klikt u op de pijl naast het markeringsgereedschap en klikt u op de gewenste kleur in het kleurenpalet dat wordt weergegeven.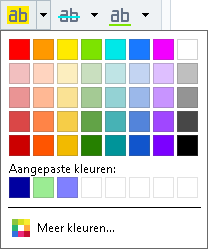 Standaard gebruiken de markeringsgereedschappen in het ZOEKEN deelvenster dezelfde kleuren als de markeringsgereedschappen in de PDF-gereedschappen- werkbalk.
04.03.2022 7:13:23
Please leave your feedback about this article