Documenten vergelijken
(Deze functionaliteit is niet beschikbaar in bepaalde versies van ABBYY FineReader. Zie ook: http://www.ABBYY.com/FineReader.)
ABBYY FineReader bevat ABBYY Documenten vergelijken, een toepassing waarmee u twee versies van een document kunt vergelijken, zelfs als deze versies verschillende indelingen hebben. Met ABBYY FineReader's documentvergelijkingsgereedschap kunt u belangrijke inconsistenties in een tekst detecteren en bijvoorbeeld de goedkeuring of publicatie van de verkeerde versie van een document voorkomen.
U kunt ABBYY Documenten vergelijken op verschillende manieren starten:
Open het Nieuwe taak venster, selecteer het Vergelijken tabblad en klik op ABBYY Documenten vergelijken openen.
Klik op de Start knop in Windows en klik op ABBYY FineReader PDF 15 > ABBYY Documenten vergelijken (in Windows 10, klik op de Start knop, selecteer het Alle toepassingen item in het startmenu en klik op ABBYY FineReader PDF 15  >ABBYY Documenten vergelijken)
Klik op Documenten vergelijken in het Gereedschappen menu.
Klik met de rechtermuisknop op een bestand in Windows Explorer en klik Documenten vergelijken... op de vervolgkeuzelijst.
Volg de onderstaande instructies om twee documenten te vergelijken.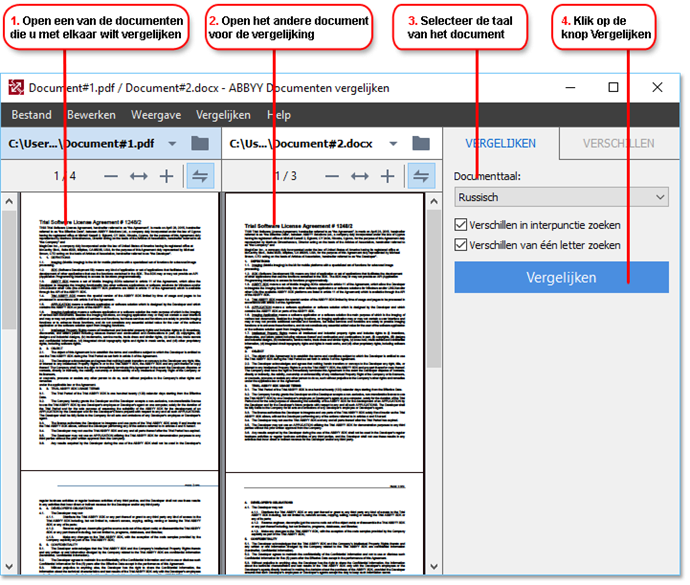 Open ABBYY Documenten vergelijken, open een van de versies die u wilt vergelijken in het linker deelvenster en de andere in het rechter deelvenster.
In het VERGELIJKEN deelvenster, selecteert u de talen van het document uit de vervolgkeuzelijst.
Controleer de door ABBYY Documenten vergelijken gevonden verschillen.
De verschillen tussen de twee versies worden in elke versie gemarkeerd en in het rechter deelvenster weergegeven. U krijgt zo een helder overzicht van de wijzigingen die in het document zijn aangebracht. U kunt zo eenvoudig zien welke tekst is toegevoegd, verwijderd of bewerkt in elke versie. Beide pagina's scrollen simultaan en de identieke fragmenten worden altijd zij aan zij weergegeven. U kunt de verschillen verwijderen van de lijst of kopiëren naar het klembord.

De verschillen die zijn verwijderd van de lijst worden niet opgeslagen in het rapport met verschillen.
U kunt de vergelijkingsresultaten opslaan:
als een Microsoft Word-bestand waarbij de verschillen worden weergegeven met de functie Wijzigingen bijhouden.
Als een PDF-document met opmerkingen.
Als een Microsoft Word-tabel met de verschillen.

Voor meer informatie over het vergelijken van twee versies van hetzelfde document, zie ABBYY Documenten vergelijken.
04.03.2022 7:13:23
Please leave your feedback about this article