Trefwoorden zoeken
Doe het volgende om een trefwoord te zoeken:
Klik op het tabblad in het deelvenster links of klik op Weergave > Zoeken om het deelvenster ZOEKEN te openen.
In het tekstveld Zoeken typt u het woord of de zin die u wilt zoeken.
Woorden en zinnen die overeenkomen met uw zoekopdracht worden in het document gemarkeerd.
De zoekresultaten worden gerangschikt in groepen (op basis van de bron: tekst, opmerkingen of bladwijzers) en u kunt volledige groepen markeren.
 
Klik indien nodig op de pijl naast het pictogram en selecteer een van de volgende:
Exacte overeenkomstzoekt alleen naar woorden die precies overeenkomen met de woorden die u in het zoekveld hebt ingevuld.
Bijv. als u naar het woord 'correct' zoekt, worden woorden als 'incorrectly' of 'correction' niet vermeld.
Hoofdletters komen overeenzoekt alleen naar woorden die overeenkomen met de hoofd- en kleine letters in uw opdracht.
Bijv. als u zoekt naar het woord 'Editor' vindt u geen woorden als 'editor' of 'EDITOR'.
U kunt treffers in de tekst markeren, doorhalen en onderstrepen. Selecteer om dit te doen de betreffende woorden in de zoekresultaten en klik op het betreffende gereedschap (markeren, doorhalen of onderstrepen).


Hiermee creëert u opmerkingen in het PDF-document en markeert u eventuele wijzigingen die moeten worden doorgevoerd in het brondocument. Dit heeft geen gevolgen voor de tekst van uw PDF-document zelf.
Om de kleur voor tekstmarkering te wijzigen, klikt u op de pijl naast het betreffende gereedschap en selecteert u de gewenste kleur op het kleurenpalet dat wordt weergegeven.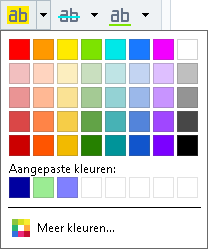 Om naar het volgende/vorige zoekresultaat te gaan, gebruikt u de knoppen

. U kunt ook het volgende zoekresultaat selecteren door te drukken op F3.
04.03.2022 7:13:23
Please leave your feedback about this article