Zoeken en bewerken
Met de PDF-editor kunt u vertrouwelijke informatie uit PDF-documenten verwijderen voordat u ze publiceert. Volg de volgende stappen om dit te doen:
Klik op het tabblad in het deelvenster links of klik op Weergave > Zoeken om het deelvenster ZOEKEN te openen.
Navigeer naar het tabblad REDIGEREN.
In het tekstveld Zoeken:
typ het woord of de zin die u wilt vinden
of klik op het pictogram en selecteer Zoeken via trefwoordenlijst in de vervolgkeuzelijst om tekst te zoeken via een aangepaste lijst.
Woorden en zinnen die overeenkomen met uw zoekopdracht worden in het document gemarkeerd.


De zoekresultaten worden gerangschikt in groepen (op basis van de bron: tekst, opmerkingen of bladwijzers) en u kunt volledige groepen markeren.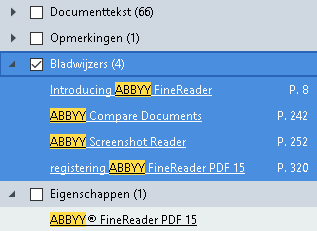 Klik indien nodig op de pijl naast het pictogram

en selecteer een van de volgende:
Exacte overeenkomstzoekt alleen naar woorden die precies overeenkomen met de woorden die u in het zoekveld hebt ingevuld.
Bijv. als u naar het woord 'correct' zoekt, worden woorden als 'incorrectly' of 'correction' niet vermeld.
Hoofdletters komen overeenzoekt alleen naar woorden die overeenkomen met de hoofd- en kleine letters in uw opdracht.
Bijv. als u zoekt naar het woord 'Editor' vindt u geen woorden als 'editor' of 'EDITOR'.
Markeer in de zoekresultaten een woord of zin die u wilt verbergen.


Om verschillende woorden of zinnen tegelijkertijd te verbergen, selecteert u de betreffende waarde in het zoekveld.
Klik op Redigeren.
Hiermee verwijdert u de geselecteerde woorden of zinnen en overschrijft u de betreffende voorvallen.


Sla uw wijzigingen op.
Zoeken en verbergen via trefwoordenlijsten
Als u zoekt naar herhaalde woorden of woordcombinaties in een document en deze wilt verbergen (bijvoorbeeld vertrouwelijke informatie over uw organisatie, etc.), maakt u een trefwoordenlijst voor deze woorden en gebruikt u die om de betreffende tekst te zoeken en verbergen. Klik om dit te doen op het pictogram

in het tekstveld Zoeken en selecteer een van de volgende uit de vervolgkeuzelijst:
Trefwoord toevoegen aan lijst om een momenteel aanwezig woord of aanwezige woordcombinatie in het tekstveld toe te voegen aan een trefwoordenlijst;
Zoeken via trefwoordenlijst om de tekst te zoeken via een aangepaste trefwoordenlijst;
Trefwoordenlijst bewerken... om trefwoorden voor een lijst toe te voegen, aan te passen, te verwijderen of op te slaan.
Om de wijzigingen die u hebt doorgevoerd aan een lijst op te slaan en een zoekopdracht in gang te zetten via de aangepaste trefwoordenlijst, klikt u op Opslaan en zoeken.  


Om alle trefwoorden in een bepaalde lijst weer te geven, plaatst u de aanwijzer op de naam van de lijst.


Om een trefwoordenlijst te sluiten, klikt u op het pictogram naast de naam of verwijdert u het vinkje bij Zoeken via trefwoordenlijst.
04.03.2022 7:13:23
Please leave your feedback about this article