Keuzerondje
Keuzerondje staat toe dat de gebruiker één optie in een groep met beschikbare opties selecteert.
Zo voegt u keuzerondjes toe aan uw formulier:
Schakel naar de formulierbewerkingsmodus.
Klik op het gereedschap .
Klik op de plek waar u een keuzerondje wilt toevoegen. Er wordt een keuzerondje met standaardafmetingen toegevoegd. Blijf in het formulier klikken tot u het gewenste aantal keuzerondjes hebt toegevoegd.
U moet minimaal twee keuzerondjes toevoegen, want keuzerondjes moeten de gebruiker de keuze bieden tussen twee of meer opties.
Klik nogmaals op het gereedschap of druk op de Esc-toets om te stoppen met het toevoegen van keuzerondjes.
Alle keuzerondjes die u vóór het uitschakelen van dit gereedschap hebt toegevoegd, vormen één groep. Als u nog een groep met keuzerondjes wilt toevoegen, herhaalt u stap 2 t/m 4.
Als u een keuzerondje wilt bewerken, klikt u met de rechtermuisknop op het keuzerondje en selecteert u Eigenschappen... in het snelmenu.
Zie ook: Interactieve velden bewerken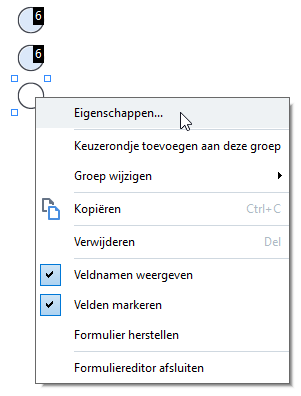 Eigenschappen van keuzerondjes
Tabblad Algemeen
Tabblad Vormgeving
04.03.2022 7:13:23
Please leave your feedback about this article