Documenten vergelijken
Om twee versies van een document te vergelijken, voert u deze stappen uit:
Start ABBYY Documenten vergelijken.
Zie ook: ABBYY Documenten vergelijken starten.
Open de documenten in ABBYY Documenten vergelijken. De documenten moeten een van de ondersteunde indelingen.
Voer een van de volgende handelingen uit om een document te openen:
Sleep een document naar een van de twee weergavegebieden.
Klik ergens op een weergavegebied en blader naar de bestandslocatie.
Klik op de knop op de werkbalk van een weergavegebied en blader naar het gewenste document.
Klik op een van de weergavegebieden en vervolgens op Bestand > Document openen....
U kunt naar een ander weergavegebied gaan door te drukken op Ctrl+Tab of Alt+1/Alt+2.
ABBYY Documenten vergelijken onthoudt onlangs vergeleken documentparen.
Om een van de recentelijk vergeleken documenten te openen, selecteert u het uit de vervolgkeuzelijst boven een weergavegebied.
Om een recentelijk vergeleken documentpaar te openen, klikt u op Bestand > Recente vergelijkingen en selecteert u een documentpaar uit de lijst.
U kunt ook een recentelijk vergeleken documentpaar openen in het Nieuwe taak venster: klik op het Vergelijken tabblad en selecteer een documentpaar onder Recente vergelijkingen.
Selecteer de taal van de documenten in de lijst op het VERGELIJKEN tabblad.
Klik op de Vergelijken knop op het VERGELIJKEN tabblad van het meest rechtse deelvenster of klik op de Documenten vergelijken opdracht in het Vergelijken menu.
Er wordt een venster weergegeven met een voortgangsbalk, vergelijkingstips en waarschuwingen.



Nadat de documenten zijn vergeleken, wordt een lijst met verschillen weergegeven op het tabblad VERSCHILLEN. Alle verschillen worden in beide documenten gemarkeerd.
U kunt de Vergelijkingsresultaten opslaan:
als een Microsoft Word-bestand waarbij de verschillen worden weergegeven via de functie Wijzigingen bijhouden.
Let op: een opgeslagen document is een herkende versie van het oorspronkelijke document, wat inhoudt dat er visuele verschillen en herkenningsfouten kunnen zijn. U moet daarom een document van dit type gebruiken om de verschillen weer te geven.
Als een PDF-document met opmerkingen.
Als een Microsoft Word-tabel met de verschillen.
Om de vergelijkingsresultaten op te slaan, klikt u op de knop Opslaan... op het tabblad VERSCHILLEN. Standaard worden de verschillen opgeslagen in de laatst geselecteerde bestandsindeling. Als u de verschillen wilt opslaan in een andere indeling, kiest u de geschikte indeling in de vervolgkeuzelijst naast de knop Opslaan....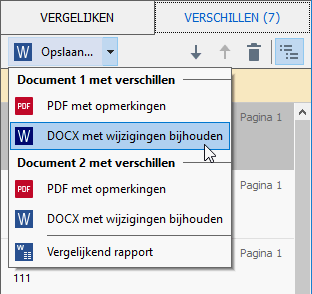 Zie ook: Vergelijkingsresultaten weergeven, Vergelijkingsresultaten opslaan.
04.03.2022 7:13:23
Please leave your feedback about this article