Herkenning op de achtergrond
In de PDF-editor kunt u tekst en illustraties zoeken en kopiëren in PDF-documenten zonder tekstlaag, zoals gescande documenten en documenten die zijn gemaakt van afbeeldingsbestanden. Dit is mogelijk dankzij het OCR-proces dat op de achtergrond wordt uitgevoerd.
Herkenning op de achtergrond is standaard ingeschakeld en start automatisch wanneer u een PDF-document opent.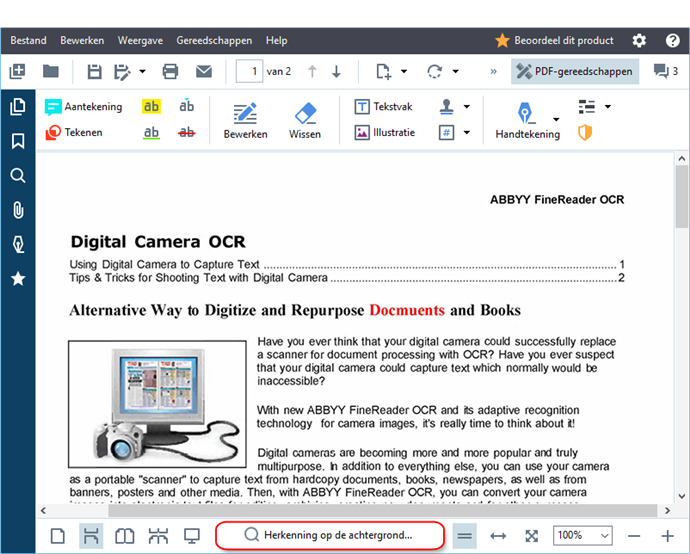 Bij dit proces blijft de inhoud van het PDF-bestand ongewijzigd. Er wordt alleen een tijdelijke tekstlaag toegevoegd die niet beschikbaar is als u het document opent in andere toepassingen.

Als u het document doorzoekbaar wilt maken in andere toepassingen, moet u de tekstlaag die tijdens de herkenning op de achtergrond is gemaakt opslaan. Om dit te doen klikt u op Bestand > Document herkennen > Document herkennen... Zie ook: Tekst herkennen.

Belangrijk! Als de zoek- of kopieerfuncties niet goed werken, controleert u of de juiste OCR-talen zijn geselecteerd voor het document. Zie ook: Functies van het document vaststellen voorafgaand aan OCR.

Om de herkenning op de achtergrond uit te schakelen, schakelt u de Herkenning op de achtergrond inschakelen in de PDF-editor optie in de Opties dialoogvenster.

De herkenning op de achtergrond kan niet worden uitgevoerd op computers met een single-core processor.
04.03.2022 7:13:23
Please leave your feedback about this article