Als uw afgedrukte document niet-standaardlettertypen bevat
U kunt de trainingsmodus gebruiken om de OCR-kwaliteit te verbeteren bij documenten die decoratieve lettertypen of speciale tekens bevatten (bijvoorbeeld wiskundige symbolen).
Opmerking: Het is niet aan te raden om de trainingsmodus in andere gevallen te gebruiken, omdat de verbeteringen van de kwaliteit niet opwegen tegen de tijd en moeite die de training kosten.
In de trainingmodus wordt een gebruikerspatroon gecreëerd, dat vervolgens kan worden gebruikt bij het OCR-proces voor de gehele tekst.
Gebruikerspatronen gebruiken
U kunt als volgt een patroon gebruiken om een document te herkennen:
Open het dialoogvenster Opties (Extra > Opties…) en klik vervolgens op het tabblad Lezen.
Selecteer onder Training de optie Alleen gebruikerspatroon gebruiken.
Opmerking: Als u de optie Ingebouwde en gebruikerspatronen gebruiken selecteert, zal ABBYY FineReader 12 zowel de gebruikerspatronen als de ingebouwde patronen gebruiken bij de OCR.
Klik op de knop Patroneneditor….
In het dialoogvenster Patroneneditor selecteert u het gewenste patroon en klikt u op OK.
Klik in het hoofdvenster van ABBYY FineReader op de knop Lezen.
Een gebruikerspatroon maken en trainen
Doe het volgende om een gebruikerspatroon te trainen voor het herkennen van nieuwe tekens en ligaturen:
Open het dialoogvenster Opties (Extra> Opties…) en klik vervolgens op het tabblad Lezen.
Onder Training selecteert u Ingebouwde en gebruikerspatronen gebruiken of Alleen gebruikerspatroon gebruiken.
Selecteer de optie Lezen met training.
Klik op de knop Patroneneditor….
Opmerking: Patronentraining wordt niet ondersteund voor Aziatische talen.
In het dialoogvenster Patroneneditor klikt u op Nieuw….
Het dialoogvenster Patroon maken wordt geopend. Typ de naam van het gebruikerspatroon en klik op OK.
Sluit de dialoogvensters Patroneneditor en Opties door in beide dialoogvensters op de knop OK te klikken.
Klik in de werkbalk bovenaan in het venster Afbeelding op Lezen.
Als ABBYY FineReader nu een onbekend teken tegenkomt, wordt dit teken weergegeven in een dialoogvenster Patroontraining.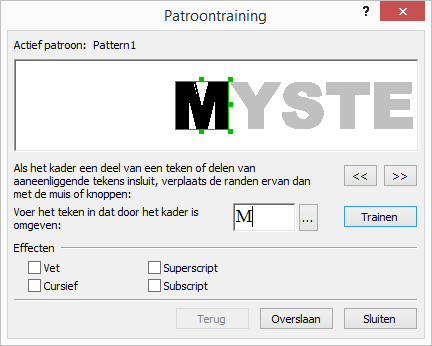 Leer het programma om nieuwe tekens en ligaturen te lezen.
Een ligatuur is een combinatie van twee of meer 'aan elkaar geplakte' tekens, bijvoorbeeld fi, fl of ffi. Het programma kan deze moeilijk scheiden. U kunt bij de herkenning betere resultaten behalen door ligaturen te beschouwen als zelfstandige, samengestelde tekens.
Opmerking: Woorden die cursief of vet zijn afgedrukt in uw tekst, of woorden in superscript/subscript, kunnen in de herkende tekst bewaard blijven door de overeenkomstige opties te selecteren bij Effecten.
Om terug te gaan naar het vorige getrainde teken, klikt u op de knop Terug. Het kader keert dan terug naar de vorige positie en de laatste getrainde combinatie van tekenafbeelding en teken wordt uit het patroon verwijderd. De knop Terug navigeert tussen tekens van één woord en niet tussen woorden.
Belangrijk!
U kunt ABBYY FineReader alleen trainen om tekens te lezen die in het alfabet van de herkenningstaal voorkomen. Als u het programma wilt trainen om tekens te lezen die niet vanaf het toetsenbord kunnen worden ingevoerd, gebruikt u een combinatie van twee tekens om deze niet-bestaande tekens aan te duiden, of kopieert u het gewenste teken uit het dialoogvenster Teken invoegen   (klik op om dit dialoogvenster te openen).
Elk patroon kan maximaal 1000 nieuwe tekens bevatten. U kunt echter beter niet te veel ligaturen maken, omdat de herkenningskwaliteit hierdoor kan afnemen.
Een gebruikerspatroon selecteren
U kunt in ABBYY FineReader gebruikmaken van patronen om de OCR-kwaliteit te verbeteren.
Klik in het menu Extra op Patroneneditor….
In het dialoogvenster Patroneneditor selecteert u het gewenste patroon uit de lijst met beschikbare patronen en vervolgens klikt u op Actief maken.
Enkele aandachtspunten:
In plaats van verschillende maar sterk op elkaar lijkende tekens als aparte tekens te herkennen, leest ABBYY FineReader deze vaak als één en hetzelfde teken. Zo zullen het rechte ('), het linker (') en het rechter (') aanhalingsteken in een patroon worden opgeslagen als één enkel teken (recht aanhalingsteken). Dit heeft tot gevolgd dat in de herkende tekst geen linker of rechter aanhalingstekens zullen voorkomen, zelfs al hebt u geprobeerd deze te trainen.
Voor sommige tekenafbeeldingen selecteert ABBYY FineReader op basis van de context het corresponderende toetsenbordletterteken. Een afbeelding van een cirkeltje zal bijvoorbeeld worden herkend als de letter O indien er letters naast staan, maar als het cijfer 0 wanneer de omliggende tekens cijfers zijn.
Een patroon kan alleen worden gebruikt voor documenten met hetzelfde lettertype, dezelfde tekengrootte en dezelfde resolutie als die van het document op basis waarvan het patroon wordt gemaakt.
Om een patroon later opnieuw te gebruiken, kunt u het opslaan als bestand. Zie voor meer informatie "Wat is een FineReader-document?"
Om tekst in een ander lettertype te herkennen, moet u eerst het gebruikerspatroon uitschakelen door de optie Alleen ingebouwde patronen gebruiken te selecteren onder Extra > Opties… > Lezen.
Een gebruikerspatroon bewerken
U kunt het nieuwe patroon bewerken voordat u het OCR-proces start. Een niet goed getraind patroon kan de kwaliteit van de OCR nadelig beïnvloeden. Een patroon mag alleen hele tekens of ligaturen bevatten. Tekens met afgekapte randen of waaraan niet de juiste letter is gekoppeld, moeten uit het patroon worden verwijderd.
Klik in het menu Extra op Patroneneditor….
Het dialoogvenster Patroneneditor wordt geopend. Selecteer het gewenste patroon en klik op de knop Bewerken….
In het dialoogvenster Gebruikerspatroon selecteert u het gewenste teken en klikt u op de knop Eigenschappen….
In het dialoogvenster dat verschijnt:
Voer de letter in die overeenkomt met het teken in het veld Teken.
Specificeer het gewenste lettertype-effect (vet, cursief, superscript of subscript) in het veld Effect.
Klik op de knop Verwijderen in het dialoogvenster Gebruikerspatroon om een teken te verwijderen dat op een onjuiste manier is getraind.
14.01.2020 17:26:20
Please leave your feedback about this article