Werken met online opslagdiensten
Met ABBYY FineReader kunt u afbeeldingen en PDF-bestanden openen vanuit online opslagdiensten als Dropbox, SkyDrive en Google Drive. Ook kunt u hierin herkende teksten opslaan. U kunt uw online opslaglocaties eenvoudig bereiken via de dialoogvensters voor openen en opslaan in ABBYY FineReader.
Om een afbeelding of PDF-bestand te openen vanuit een online opslaglocatie doet u het volgende:
Klik in ABBYY FineReader op Openen of klik op PDF-bestand of afbeelding openen… in het menu Bestand.
In het dialoogvenster Afbeelding openen klikt u op het tabblad Favorieten of Recente locaties en selecteert u het gewenste opslagapparaat.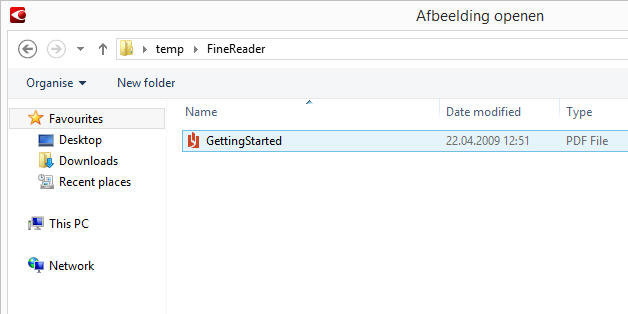 Selecteer een of meer afbeeldingbestanden.
Indien het een document met meerdere pagina's betreft, geeft u een paginabereik op.
Schakel indien nodig Automatisch pagina's verwerken nadat ze zijn toegevoegd in.
Tip: Klik op Opties… voor het selecteren van de opties voor verwerking en voorbewerking. Zo kunt u het programma bepaalde fouten in de afbeelding laten herstellen, afbeeldingen laten analyseren of afbeeldingen laten inlezen zodra ze worden toegevoegd. Ga voor mee informatie naar "Opties voor het scannen en openen."
Opmerking: Als een ABBYY FineReader-document is geopend, worden de pagina-afbeeldingen aan het einde van het document toegevoegd. Anders wordt een nieuw ABBYY FineReader-document gemaakt.
Op dezelfde manier kunt u herkende teksten opslaan op online opslagapparaten.
14.01.2020 17:26:20
Please leave your feedback about this article