Hoofdvenster
Wanneer u ABBYY FineReader opstart, wordt het hoofdvenster geopend. Tegelijkertijd wordt het venster Taak weergegeven, waarin u ingebouwde en aangepaste automatische taken kunt starten.
Het hoofdvenster toont de huidige geopende ABBYY FineReader-documenten. Zie voor meer informatie "Wat is een FineReader-document?"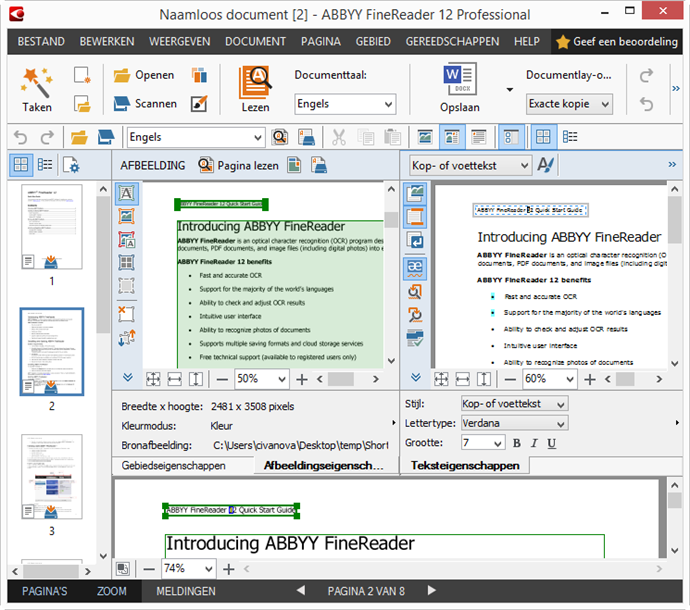 In het venster Pagina's kunt u de pagina's van het huidige FineReader-document zien. Er zijn twee modi om pagina's te bekijken: pictogrammen (deze tonen een kleine afbeelding) of details (een lijst van documentpagina's met hun eigenschappen). U kunt schakelen tussen deze modi via het snelmenu van het venster, het menu Weergave of door Extra > Opties… > Weergeven te selecteren.
Het venster Afbeelding toont een afbeelding van de huidige pagina. In dit venster kunt u gebieden, pagina-afbeeldingen en teksteigenschappen bewerken.
Het venster Tekst toont de herkende tekst. Hier kunt u de spelling controleren en de herkende tekst aanpassen.
Het venster In-/uitzoomen toont een vergrote afbeelding van de regel of het afbeeldingsgebied dat bewerkt wordt. Met het venster Afbeelding krijgt u een algemeen overzicht van de pagina, terwijl het venster In-/uitzoomen delen van de afbeelding gedetailleerder laat zien. Zo kunt u het gebiedstype en de positie aanpassen of onbetrouwbare tekens in vergrote vorm bekijken. U kunt de schaal van de afbeelding wijzigen in het gedeelte onder in het venster In-/uitzoomen.
Tip: U kunt afbeeldingen met de muis verplaatsen in de vensters Afbeelding en In-/uitzoomen terwijl u de spatiebalk ingedrukt houdt.
Schakelen tussen vensters
Druk op Ctrl+Tab om te schakelen van het ene venster naar een ander.
Druk op Alt+1 om het venster Pagina's te activeren.
Druk op Alt+2 om het venster Afbeelding te activeren.
Druk op Alt+3 om het venster Tekst te activeren.
Zie voor andere sneltoetsen het gedeelte "Sneltoetsen."

Zie ook:
1/14/2020 5:26:20 PM
Please leave your feedback about this article