Scanning Stations
ABBYY FlexiCapture supports importing images from a personal scanner (through a thin or local rich client), or a network scanner (images go to a folder or e-mail inbox), or from a mobile app. Each scanning client's performance is limited by scanner speed and data transfer bandwidth.
The total number of scanning clients is not as important for performance as the total input flow – the average and peak number of pages processed per hour or per 24 hours, and the size of each page, dependent on its color mode. The peak input flow should not exceed the System's capabilities.
Traffic from all Scanning Stations, Verification Stations, and Processing Stations passes through the same channel at the Application Server's gateway.
When traffic from Scanning Stations takes up half of the channel's bandwidth or more, or exhibits large spikes, allocate a separate network interface on the Application Server to scanning clients. This helps to avoid situations where traffic spikes cause delays on Verification Stations and Processing Stations.
If the Application Server is deployed on a cluster of several computers, traffic can be split among them by either:
using NLB affinity settings for the cluster (the software level);
routing network connections to specific cluster nodes (the hardware level).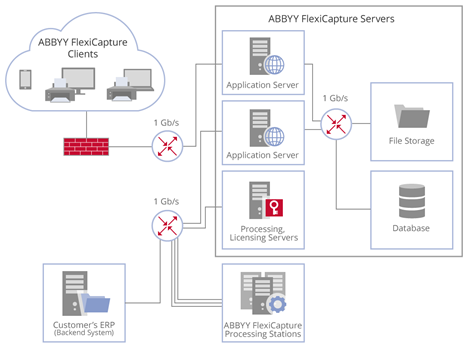 Scanning and verification clients are independently connected to the Application Server.
Scanning Stations support:
Automatic resumption of image uploads to the Application Server after the network connection failed. This helps mitigate traffic spikes from Scanning Stations.
Centralized setting scanning, image enhancement and export to the Applications Server options – for example, you may define the color mode of scanned images, detect and delete all unnecessary empty pages, produced by duplex scanning, to reduce the input flow to the Application Server.
Scheduling of image uploads to the Application Server to balance network loads (e.g. by assigning different upload times to different regional offices).
5/25/2023 7:55:03 AM
Please leave your feedback about this article