Testing setup specifications
The FlexiCapture servers and the Database Server were installed on virtual machines rented from Microsoft Azure.
The configuration was that of the typical On-Premises installation.
At one point in the test, performance reached its maximum due to the limitations of the disk subsystem.
The low-performing disk was replaced with the fastest disk available, but this did not result in any significant improvements in performance, as the disk's potential was soon used up.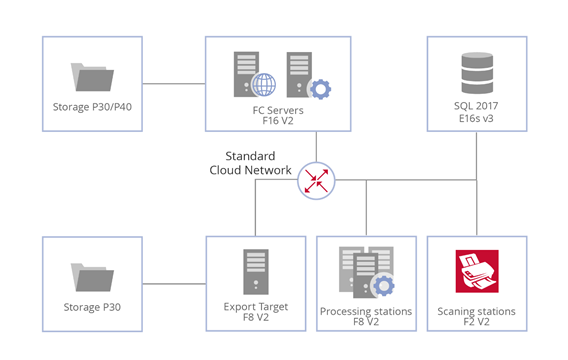 Machine role
Requirements

ABBYY FlexiCapture Servers:

Application Server
Processing Server
Licensing Server

Azure Instance: F16 v2
Intel Xeon® Platinum 8168 (SkyLake), 2.7 GHz
16 virtual CPU Cores
32.00 GiB

Windows 2016

Database Server

Microsoft SQL Server Developer 2017

Azure Instance: E16 v2
Intel XEON® E5-2673 v4 (Broadwell), 2.3 GHz
16 virtual CPU Cores
128.00 GiB

Windows 2016

FileStorage

Premium SSD Managed Disk, attached to Virtual Machine

Azure Instance: P30
Throughput per disk: 200 MB/second

Azure Instance: P40
Throughput per disk: 250 MB/second

Processing Station

Azure Instance: F8 v2
Intel Xeon® Platinum 8168 (SkyLake), 2.7 GHz
8 virtual CPU Cores
16.00 GiB

Windows 2016

Workload generator

Azure Instance: F2 v2
Intel Xeon® Platinum 8168 (SkyLake), 2.7 GHz
2 virtual CPU Cores
4.00 GiB

Windows 2016

Backend

Shared SMB network folder where processing results are exported

Azure Instance: F8 v2
Intel Xeon® Platinum 8168 (SkyLake), 2.7 GHz
8 virtual CPU Cores
16.00 GiB

Premium SSD Managed Disk, attached to Virtual Machine

Azure Instance: P30
Throughput per disk: 200 MB/second

Windows 2016
25.05.2023 7:55:03
Please leave your feedback about this article