Scanning af papirdokumenter
Du kan scanne et dokument og genkende det resulterende billede i ABBYY FineReader 12. Udfør følgende trin for at scanne et billede.
Sørg for, at scanneren er korrekt tilsluttet computeren, og tænd for den.
Når du forbinder en scanner til computeren, skal du følge instruktionerne i scannerens manual eller andre ledsagende dokumentation, og sørge for at installere den software, der følger med scanneren. Nogle scannere skal være tændt, før computeren tilsluttes.
Placer den side, du ønsker at scanne i scanneren. Du kan placere flere sider hvis scanneren er udstyret med en automatisk dokumentfremfører. Sørg for at siderne er placeret så lige som muligt i scanneren. Dokumentet kan konverteres forkert, hvis teksten på det scannede billede er for skævt.
Klik på knappen Scan eller klik på Scan sider… i menuen Fil.
Scanningsdialogboksen åbnes. Angiv scanningsindstillingerne og scan dokumentet. De resulterende billeder kan ses i vinduet Sider.
Bemærk: Hvis et ABBYY FineReader-dokument allerede er åbent, vil de nyligt scannede sider blive tilføjet i slutningen af dette dokument. Hvis der ikke er nogen åbne FineReader-dokumenter, oprettes der et nyt fra disse sider.
Tip: Hvis du har brug for at scanne dokumenter, der blev udskrevet på en almindelig printer, skal du bruge en gråskala og en opløsning på 300 dpi for at få det bedste resultat.
Genkendelseskvalitet afhænger af kvaliteten af det trykte dokument og på de indstillinger, der anvendes når dokumentet bliver scannet. Lav billedkvalitet kan påvirke genkendelse, således det er vigtigt at specificere de korrekte scanningsindstillinger og tage højde for kildedokumentets karakteristika.
Indstilling af lysstyrke
Hvis lysstyrken er angivet forkert i scanningsindstillingerne, vil en meddelelse der beder dig om at ændre indstillingen for lysstyrke vises under genkendelsen. Scanning af nogle dokumenter i sort/hvid tilstand kan kræve yderligere lysstyrkejusteringer.
Udfør følgende trin for at ændre indstillingen for lysstyrke:
Klik på knappen Scan.
Angiv lysstyrken i den dialogboks, der åbnes,
Bemærk: Standard indstillingen af lysstyrke (50 %) fungerer i de fleste tilfælde.
Scan billedet.
Hvis det resulterende billede indeholder mange fejl som f. eks. bogstaver der blander sammen eller bliver usammenhængende, så se tabellen nedenfor for at få anbefalinger om, hvordan du kan opnå et bedre billede.
Problemer med billedet
Anbefalinger
En teksten som denne er klar til genkendelse, og ingen justeringer er nødvendige.

Tegn er usammenhængende, for lyse og for tynde.

Reducér lysstyrken for at gøre billedet mørkere
Brug gråtonetilstanden under scanning (lysstyrken justeres automatisk i denne tilstand)

Tegn blandes sammen og blive fordrejede, fordi de er for mørke og tykke.

Øg lysstyrken for at gøre billedet lysere
Brug gråtonetilstanden under scanning (lysstyrken justeres automatisk i denne tilstand)
Sådan gør du, hvis du ser en meddelelse der beder dig om at ændre opløsningen
Genkendelseskvaliteten afhænger meget af kildebilledets kvalitet. Lav billedopløsning (under 150 dpi) kan have en negativ indvirkning på genkendelseskvalitet, mens billeder med ekstremt høj billedopløsning (600 dpi) ikke give betydelige forbedringer i genkendelseskvalitet og tager lang tid at behandle.
Meddelelsen der beder dig om at ændre billedets opløsning kan forekomme, hvis:
Opløsningen på billedet er mindre end 250 dpi eller større end 600 dpi.
Hvis billedet har en opløsning der ikke er standard. F.eks. nogle faxmaskiner har en opløsning på 204 x 96 dpi. For at opnå de bedste genkendelsesresultater skal den lodrette og vandrette opløsning være ens.
Udfør følgende trin for at ændre opløsningen af et billede:
Klik på knappen Scan.
Vælg en anden opløsning i skanningsdialogboksen.
Bemærk: Vi anbefaler, at du bruger en opløsning på 300 dpi til dokumenter, der ikke indeholder tekst mindre end 10 punkter. Brug en opløsning på 400-600 dpi for tekst, der er 9 punkter eller mindre.
Scan billedet.
Tip: Du kan også bruge Billedredigering til at ændre et billedes opløsning. For at åbne Billedredigering skal du klikke på menuen Side, klikke på Redigér billede…).
Scanning af modstående sider
Når du scanner modstående sider i en bog, vil begge sider vises på det samme billede.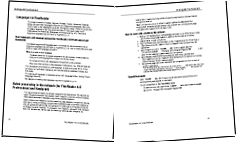 Billeder med modstående sider skal deles i to separate billeder for at forbedre OCR-kvalitet. ABBYY FineReader 12 har en særlig tilstand, der automatisk opdeler disse billeder i separate sider i FineReader-dokumentet.
Følg instruktionerne nedenfor for at scanne modstående sider fra en bog eller dobbelte sider.
Åbn dialogboksen Muligheder (Funktioner >Indstillinger…), og klik på fanen Scan/Åbn.
Vælg Opdel modstående sider i gruppen Generelle rettelser.
Bemærk: For at få de bedste resultater skal du sørge for, at siderne vendes korrekt, når du scanner dem og aktiver Bestem sideretning i Scan/Åbni dialogboksen Muligheder.
Scan de modstående sider.
Du kan også få adgang til de automatisk behandlingsindstillinger ved at klikke på knappen Indstillinger… i dialogboksen Åbn billede (Fil >Åbn PDF-fil eller -billede…) eller scanningsdialogboksen.
Du kan også opdele modstående sider manuelt:
Åbn billedredigeringen (Sider > Redigér billede…).
Brug værktøjerne i gruppen Opdel til at opdele billedet.

Se også:
1/14/2020 5:26:18 PM
Please leave your feedback about this article