Pokročilé převádění
Součástí aplikace ABBYY FineReader je editor OCR s funkcemi pokročilého OCR a skenování. Editor OCR umožňuje kontrolovat oblasti rozpoznávání a ověřovat rozpoznaný text, předběžně zpracovávat obrázky za účelem zlepšení přesnosti OCR a ještě daleko více.
Editor OCR také nabízí výkonné funkce pro podrobné nastavení OCR a převodu, aby bylo dosaženo nejlepších možných výsledků. Můžete například upravovat oblasti rozpoznávání, kontrolovat rozpoznaný text a učit aplikaci ABBYY FineReader rozpoznávat nestandardní znaky a písma.
Editor OCR lze otevřít několika způsoby:
Otevřete okno Nová úloha kliknutím na položku Soubor > Nová úloha, zvolte záložku Otevřít; poté klikněte na úlohu Otevřít v editoru OCR.
Otevřete okno Nová úloha a klikněte na položku Nástroje > Editor OCR.
Otevřete okno Nová úloha a klikněte na položku Soubor > Otevřít v editoru OCR....
V dialogovém okně Otevřít obraz zvolte soubory, které chcete otevřít.
Používáte-li výchozí nastavení, aplikace ABBYY FineReader automaticky zanalyzuje a rozpozná soubory, které jsou otevřené. Tato nastavení lze změnit na záložce Zpracování obrazů v dialogovém okně Možnosti (klikněte na Nástroje > Možnosti..., aby se toto dialogové okno otevřelo).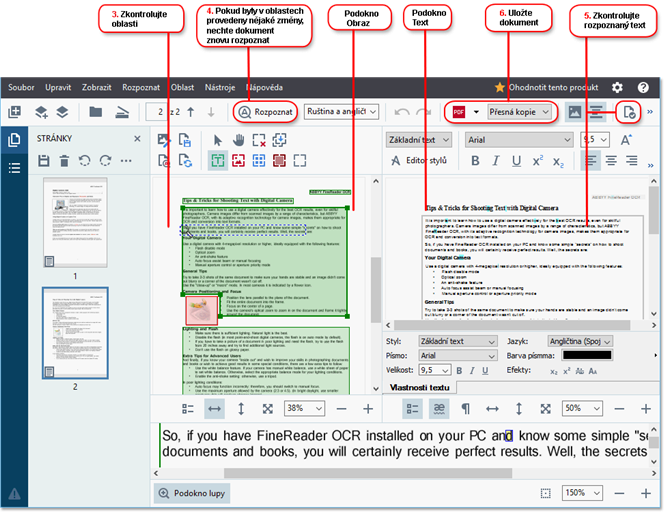 Po otevření dokumentu se jeho obraz zobrazí v podokně Obrázek a oblasti textu, obrázků, tabulek a čárových kódů budou na obrázku označeny. Zkontrolujte, zda oblasti byly určeny správně.
Pokud je to nutné, upravte je
.
Pokud jste v oblastech provedli jakékoli změny, klikněte na tlačítko Rozpoznat na hlavním panelů nástrojů, aby bylo znovu provedeno rozpoznání dokumentu.
Rozpoznaný text zkontrolujte v podokně Text a, pokud je to nutné, opravte ho.
Rozpoznaný dokument uložte. Formát, ve kterém chcete svůj dokument uložit, můžete vybrat z rozevíracího seznamu pod tlačítkem Uložit/Poslat na hlavním panelu nástrojů (klikněte na šipku vedle tlačítka a rozevírací seznam se otevře).

Více informací o editoru OCR a jeho funkcích naleznete v kapitole Práce s editorem OCR.
04.03.2022 7:12:59
Please leave your feedback about this article