Vyhledávání podle klíčových slov
Vyhledávání pomocí klíčových slov provedete tímto způsobem:
Klikněte na záložku v levém panelu nebo kliknutím na panel Zobrazit > Vyhledat otevřete HLEDAT.
Do textového pole Najít text napište slovo nebo frázi, které chcete najít.
Slova nebo fráze, které odpovídají vašemu dotazu, se v dokumentu zvýrazní.
Výsledky vyhledávání budou rozděleny do skupin (podle umístění: text, komentáře nebo záložky) a vy pak budete moci zvýraznit celou skupinu textu.
 
Pokud je to potřeba, můžete kliknout na šipku vedle ikony  a zvolit některou z následujících možností:
Přesná shodavyhledá jen slova, která se přesně shodují s těmi, která jste napsali do pole pro vyhledávání.
Např. vyhledávání slova "correct" nenajde výrazy jako "incorrectly" nebo "correction".
Rozlišovat velká a malá písmena vyhledá jen slova, která budou odpovídat vyhledávanému dotazu i ve velikosti písmen.
Např. vyhledávání výrazu "Editor" nenajde slova "editor" nebo "EDITOR".
V textu můžete zvýrazňovat, přeškrtávat a podtrhávat výsledky vyhledávání. To provedete tak, že vyberete příslušná slova ve výsledcích vyhledávání a kliknete na příslušný nástroj (zvýraznění, přeškrtnutí nebo podtržení).


Tím se v dokumentu PDF vytvoří komentáře a označí se jakékoli změny, které mají být provedeny ve zdrojovém dokumentu. To nemá vliv na samotný text dokumentu PDF.
Chcete-li změnit barvu pro označení textu, klepněte na šipku vedle příslušného nástroje a vyberte požadovanou barvu z palety barev, která se zobrazí.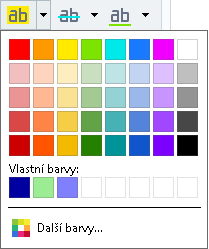 Na předchozí/následující výsledek vyhledávání přejdete pomocí tlačítek

. Také můžete vybrat další výsledek vyhledávání pomocí tlačítka F3.
04.03.2022 7:12:59
Please leave your feedback about this article