English (English) - Change language
About ABBYY FlexiCapture Cloud
ABBYY FlexiCapture Cloud is a cloud solution that is based on the ABBYY FlexiCapture Distributed framework and hosted on the Microsoft Azure cloud environment. FlexiCapture Cloud is a data streaming service that uses the ABBYY Content IQ technology to classify documents by type and extract data from various sources for further processing in document management systems.
FlexiCapture Cloud's main advantage is its ability to allow customers to use FlexiCapture features and have access to necessary software solutions without the customers having to invest in creating and maintaining their own software infrastructure.
The ABBYY FlexiCapture Cloud platform  is capable of handling modern business scenarios and tasks of any scope, providing high levels of security and reliability expected from enterprise-grade software solutions.
ABBYY FlexiCapture Cloud architecture
The way FlexiCapture Cloud components interact with each other is shown in the following diagram: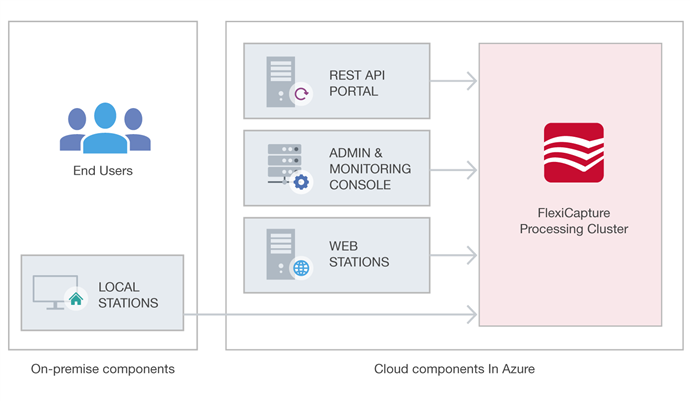 ABBYY FlexiCapture Cloud functionality and restrictions
The ABBYY FlexiCapture and ABBYY FlexiCapture Cloud platforms are identical in terms of basic features, components, and workstations. The cloud platform offers the same functionality as the On premise FlexiCapture version. There is also a possibility of the features integration into third-party systems with the help of ABBYY FlexiCapture Cloud Rest API.
See this page for more details about ABBYY FlexiCapture functionality.
Differences with regards to the traditional version and other limitations of the cloud version include:
Import is possible from POP3 server, FTP server and the Scanning Station.
To export files to local folders and local (On premise) databases, we recommend using the REST API.
No option to install or use third-party components and services on processing stations.
No access to the processing server monitor.
8/19/2019 1:28:54 PM